Black International Gospel Singers
Terry Lovique (Leader, Founder, Tenor)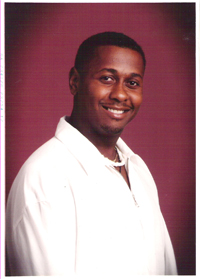 Terry Lovique, Multitalent und internationaler Künstler, wurde in Bassett, Virginia/USA geboren. Er studierte Musik unter der Leitung des hochrangigen Dr. Aldrich Adkins an der Virginia State University. Wärend des Studiums tourte er mit dem Virginia State University Concert Choir, dem University Gospel Choir und dem Richmond Tri-City Mass Choir als Leadsänger. Dieser Chor gab ihm die Gelegenheit für die Größten Legenden der Gospelmusik Background zu singen. Die Liste liest sich wie ein "Who is Who" der Gospel: Tramaine Hawkins, Vickie Winans, LaShun Paces Rhodes, Vanessa Bell Armstrong, Shirley Ceasar, Take 6, Darryl Coley, John P. Kee, Eichard Smallwood und viele mehr...
Er tourte in Europa mit "The Black Gospel Pearls" von Donna Brown. Mit ihnen brachte er Gospelmusik in Länder wie Spanien, Österreich, Italien und Deutschland. Ein Highlight waren die Bregenzer Festspiele in Österreich wo er in "Porgy and Bess" unter der Regie von Götz Friedrich spielte. Er spielte in 2 Musikvideos neben der Veröffentlichung von 2 Songs: "What´s going on" von Black Attack feat. Ebony produziert von X-Tatic Music, Kiel; gedreht in Mannheim. "Wake Up" feat. Terry Lovique, produziert von Triple M, gedreht in Miami, Florida. Man könnte meinen, singen, komponieren, touren, schauspielen und Studioarbeit wären mehr als genug um sein vielseitiges Talent zu zeigen. Aber nachdem er für einige Zeit in der Musikszene unterwegs war macht er sich bereit, sein neuestes Projekt zu starten, seine eigene Agentur "Lovique Agenturs". Die Agentur wird eine der besten Services bieten, die im Entertainment-Business möglich sind. Sie wird für high-class Produktionen, Management und Event-Management stehen und helfen, ein persönliches Künstlerpaket zusammenzustellen, um im Showbusiness erfolgreich zu sein.
Terry Lovique the founder of the agency "Lovique Agentur". The multi-talent and international artist was born and raised in Bassett, VA. He studied classical music at Virginia State University under the directions of Aldrich Atkins and Janella Edmonds. While studying music, he had the opportunity to travel with the Virginia State Concert and Gospel Choir, landing him on the same stages with different gospel artists, such as Tramaine Hawkins, Vickie Winans, Shirley Ceasar, Daryl Coley and Richard Smallwood. He came to Europe in 1997, touring through Spain, Austria, Italy and Germany with "The Black Gospel Pearls", led by Donna Brown. He then had an engagement in the very successful production of "Porgy and Bess" led by Götz Friedrich at "Bregenzer Festspiele". He released 2 songs and music videos: "What´s going on", produced by X-Tatic and "Wake Up", produced by Triple M. Terry also was touring with Ayman and the P. Diddy tour, with TV appearances at "The Dome", "Top of the Pops", "ZDF Fernsehgarten" and the "Friedrichstadtpalast" in Berlin, performing along with Jennifer Rush, Sasha, Band ohne Namen and DJ Bobo.
In 2006 he founded his own agency "Lovique Agentur", being responsible for leadership, marketing and coordination of concerts and creation of new projects, as well as supporting new artists in the area of artist-marketing and event-management.